Viega Speedpress : SAFE AND EASY INSTALLATION
The installation of Potable water systems should be easy as possible. Viega has set the task to find a safe and simple solution to minimize complications from the transport of material to challenging workflows

Connect in few minutes - CUT, INSERT, PRESS - 3 EASY STEPS.
Fast, convenient and reliable : With the new viega speedpress, connections are made in 3 easy steps.
STEP 1 : Cut 
The Pipe is cut to the required length.Since pipes are delivered in coil form, unnecessary wastage could be avoided during cutting.
STEP 2 : INSERT
Next, the pipe is simply inserted into the connector, until the pipe is visible in the large inspection window
STEP 3 : PRESS
Last, the connection is pressed with the new hand press tool, which hardly takes few seconds. The SC- Contur ensures additional safety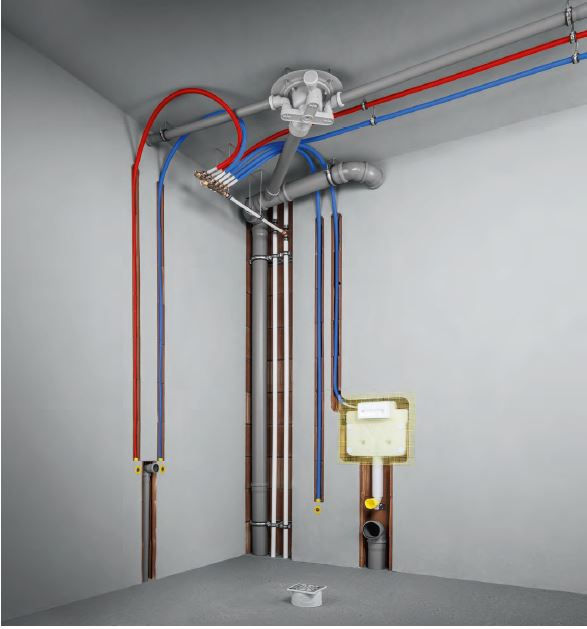 T - piece and manifold installation
POTABLE WATER INSTALLATION MADE EASY.
Viega Speedpress offers these solutions both for the classic T-piece installation and for the manifold installation in combination with the flexibile pipes and the connection socket.
Viega Potable water competence.
When it comes to potable water, only high quality systems offer maximum safety. Viega Speedpress pipes are entirely suitable for use in hot and cold water installations. They are hygienic and fulfill all regulatory requirements.

T-piece installation
The customary type of installation for drinking water is the T-piece installation in which each outlet point is connected to a branch line. Due to its good flow characteristics, Viega Speedpress can be downsized to 16 mm for outlet points like toilets or washbasins – that saves material costs.
Manifold installation
The manifold installation offers a number of advantages: If the manifolds are installed in combination with the connection socket and the corrugated pipe, the individual pipelines can be easily replaced – in case of pipe damage e.g. by drill – without opening the wall surface.Increased pressure loss can also be avoided in this way. Having one connection to the manifold and one to the tap furthermore creates two constantly accessible connection points in front of the wall, making it easy to isolate problems, e.g. in case a tap requires repair, the other appliances can still be used.
Viega SystemsA Solution for every challenge.  
When different materials such as copper, red brass, stainless steel or plastic have to be combined, there has to be a practical solution. The Viega system group provides an economical and safe solution from one source: Viega Speedpress can be extended with Viega Smartpress, Viega Profipress and Sanpress Inox.

For potable water installations within a residential unit, flexible pipe systems are often used, as this makes installation easy even when space is limited. Connection to the larger-sized supply line is no problem with the Viega Smartpress,Sanpress Inox and Profipress systems. lt's all a question of adapting Part of the extensive range of Viega Speedpress connectors are the threaded adapters which allow an easy crossover to metal pipes. In this way, Viega Speedpress can be combined with anyriser pipe system e.g. Viega Smartpress,demonstrating the absolute flexibility ofthe system.
Viega Smartpress 
Viega Smartpress multilayer pipes are made of a PE-Xc in-liner, a layer of
aluminum and PE-Xc outer case. The dimensions from 32 to 63 mm offer
the perfect solution for potable water supply lines.
Viega Profipress
The press connector system made of copper has proven itself millions of
times and is ideally suited for potable water. With over 550 product items in dimensions from 12 to 108 mm, it offers a wide selection for a variety of installations.
Sanpress Inox
This system with more than 400 different components offers a wide selection of press connectors in dimensions from 15 to 54 mm. The pipeline installations made of high-alloy stainless steel are suitable for hygienic potable water installations e.g. in hospitals.
Our new plastic pipe system
THE NEW TOOL FOR A TRUSTABLE AND LONG LASTING POTABLE WATER INSTALLATION.

The new lightweight hand press tools have been specially developed for Viega Speedpress and are easy to handle throughout the working day. Each dimension has its own tool (16/20/25 mm), which can be easily distinguished by the colour of the handle. Viega Speedpress requires low pressing force hence less efforts are required for manual pressing resulting in faster and efficient work. The tool is designed in such a way that it can only be opened again after a complete pressing – an important safety advantage of Viega Speedpress. During pressing, a marking is embossed into the copper sleeve of the Viega Speedpress connector. This enables any forgotten connections to be detected quickly.
Benefits to Handtool
Handy Lightweight tool
Forced pressing for safety
Pressing mark on the sleeve
Colour code for identification of the dimension
16 mm = Red
20 mm =  Green
25 mm = Black